Zajal
Ancient roots of the popular song
Dave Soldier's new project with ancient poetry features stellar players and singers from the Gypsy flamenco, Arabic, klezmer, Iranian, Greek, and jazz worlds.
Apple Music | Spotify | Order from Mulatta Records
MIDEASTERN AND ANDALUSIAN DANCE MUSIC WITH POETRY FROM MEDIEVAL SPAIN
THE SPINOZAS take lyrics from medieval Arabic, Persian, Hebrew, and Romance poetry and combine it with music by Dave Solider influenced by the Mid East, Flamenco, and "acoustica".
Photos | Personnel | History | Press
Lyrics | Contact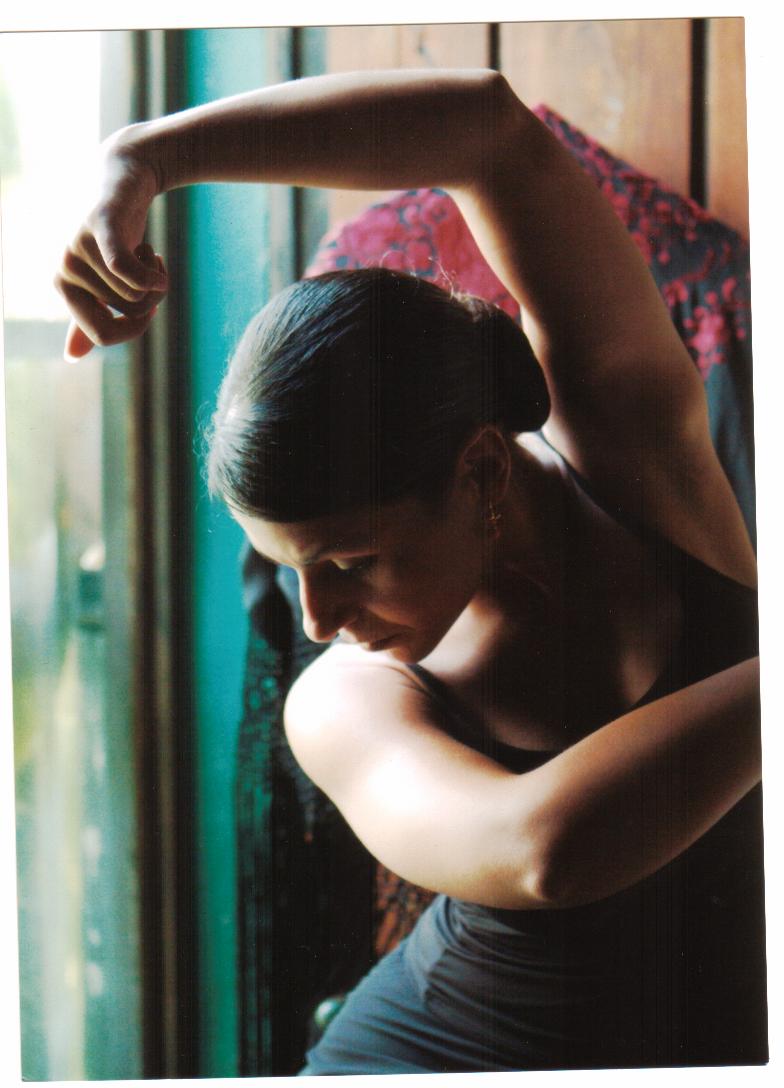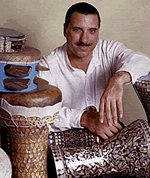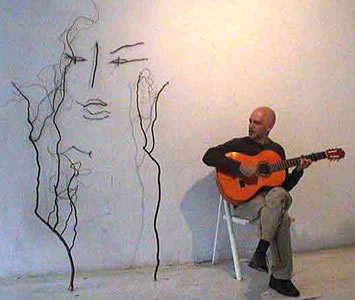 Neli Tirado, Richard Khuzami, AnnaTi Lachmy, and Dave Soldier of the Spinozas
Press
"Grab-bag pop music of the medieval variety. Well, the Andalusian tradition from which Soldier's new group draws actually predates the Christain conquest, so the reliably weird composer's outfit will collapse upwards of 500 years and more than a couple major culture clashes into a flurry of clappers, flamenco guitar, Middle Eastern percussion and multilingual wailing."
- Provan, Village Voice, Jan 4-10, 2006.
"Over the years, Dave Soldier has poked into all sorts of adventurous corners, frrom ferocious contemporary classical fare with the Soldier String Quartet to blues rock with the Kropotkins. Tonight, he picks up a flamenco guitar to explore Andalusian folk-song traditions."
-Time Out, February 2-8,2 2006
DAVE SOLDIER: Composer and Flamenco Guitar: credits include the Soldier String Quartet, Thai Elephant Orchestra, John Cale, Kurt Vonnegut, Kropotkins, etc.
AnnaTi: Vocalist of Israeli descent born of Moroccan and Iranian parents. She did most of the translations of the lyrics (see below). Annati's website
RACHID HALIHAL: Oud and violin: Fine Moroccan Instrumentalist who recently toured with Rachid Taha

MAURICE CHEDID: Oud and voice: New York's top oud virtuoso and one of it's best singers of the Mideastern repertoire.

RICHARD KHUZAMI: Lebanese American Middle Eastern percussionist: Composer, producer and performer of music combining both Eastern and Western elements. Richard's website
NELIDA TIRADO, LILLIANA MORALES, MAYA DaSILVA: Palmas (handclaps) and Andalusian rhythms from NYC's two top flamencas
PAUL FRAZIER: Bass: Longtime and current bass with David Byrne and many others
REBECCA CHERRY : Violin, from London and Berlin Philharmonics
SATOSHI TAKESHI: Unique mixture of Latino and Mideastern percussion, conguero with Ray Barretto
ALBY ROBLEJO : Cajon (box) and assorted percussion: Unique combination of latin and middle eastern beats
TIYE' GIRAUD: Dumbek, from Urban Bushwomen, Soldier String Quartet, and her own groups
The Spinozas explore the very beginning of the European pop and art song traditions. This occurred medieval Andalusia (c 800-1300) , when the country was run by North African and later Arabic Muslims, and during much of which Muslims, Jews, and Christians lived under the Cordoba Caliphate and developed many new art forms. This was the birth of song form with verses and choruses - the Arabic names for these lyrics was muwashshaha and zajal - which were different than the rhymed couplets in previous lyrics from all three traditions. These poems, hundreds of which survive, were always sung, and imitated by the singers up north in Provence. That became Provencal poetry, while the Andalusian oud (imported via Baghad from Iran) became the lute and guitar - the poetry directly began the troubador and mesitersinger traditions.
This "Golden Age of Hebrew Poetry" AND "Golden Age of Arabic Poetry" initiated virtually the entire Western song repertoire, meaning Schubert, the Beatles, Hank Williams, opera, and most of the other art and pop music of our world.
In addition to the most popular present day song forms, the guitar and lute, the European horse riding tradition (another story), European sheep herding and the wool industry (also another story), the Kabala and contemporary Jewish theology (OK, another story), the acknowleged start of the European poetry tradition, the novel (re: Don Quixote), knighthood, the European rediscovery of the ancient Greek scientific tradition, the importation of algebra and the concept of zero to Europe... this period in Andalusia was the start of the western orchestra, a term that came from the sitara, the cloth separating the audience and dancers from the musicians behind. The Andalusian dance crazes that spread throughout the new and old world, such as sarabandes, bourees, to become the rennaisance baroque dance suite and eventually the sonata and symphony, and many of the dances still used in salsa and ballroom dancing.
We rediscovered the old poetry in Arabic, Hebrew, Farsi, and ancient Spanish or Romance, some of them in Soldier's visit to Andalusian bookstores and libraries. We combine it with Soldier's music which freely adapts flamenco, middle eastern music, along with salsa, and electronica (although the instruments are acoustic and it can all be performed outdoors - we're calling it acoustica). Florid and emotional, and dance music, also part of the old tradtion.
Concert history
June 16, 2007
Taller Latinoamericano, NYC
with Dave, AnnaTi, Rebecca, Paul, Satoshi Takeshi, Neli, Richard
June 12, 2006
Pete's Candy Store, Williamsburg, Brooklyn
with Dave, Na'Ti, Paul, Alby, Lilliana, and Rebecca
March 24 2006 , Friday @ TONIC (10 bucks) , midnight
Norfolk Street between Delancey and Rivington, Lower East Side, NYC
With Dave, Na'Ti, Maurice, Paul, Maya, Lilliana , Satoshi, Tom, Richard and Tiye'.
Feb 8, 2006 ,Wednesday @ THE STONE , 8 pm
located at the corner of avenue C and 2nd street
The"concert" side of this music, and for the first time we perform two classical versions of this medieval lyric poetry (known as muwashahat), "Ya Zah'eri fil Duha" and "Lamma Bada Yatathanna" associated with the great Lebanese singer, Fairouz, as interpreted by the great Lebanese oudist, Maurice Chedid.
With Dave, Na'Ti, Alby, Maurice, Paul, Rebecca, Tom, and Tiye'.
Thursday, January 5 2006 10 pm: The SPINOZAS @ TONIC (10 bucks)
Tonic is located at 107 Norfolk Street between Delancey and Rivington Streets in Manhattan's Lower East Side.
with Dave, Na'Ti, Richard, Alby, Lilliana, Natalia, Paul, Maurice
and Chris Washburne on trombone and Tiye' Giraud on dumbek sitting in
December 9, 2005 Cooper Union
"The Spinoza's will open ...
Dave Soldier on Guitar, Na'Ti; Vocals, Richard Khuzami; Percussion and Lilliana Morales; Palmas.
"A SPIRITUAL TALK BY VITALY KOMAR"
The Cooper Union, Humanities Gallery 51 Astor Place b/w Third and Fourth Aves.
Sat, Nov 26 2005 @ Tonic 107 Norfolk Street
Midnight $5
with Dave, Na'Ti, Richard, Mal Stein on drums, Lilliana, Natalia, Paul, Rachid, Rebecca
Sunday, Aug.7 2005 Cornelia Street Cafe 29 Cornelia Street, NYC
6:00PM ENTERTAINING SCIENCE
Roald Hoffmann, host
FROM SAMARKAND TO CORDOBA There was a time when science, music, and art in Islamic lands represented high culture to Europe. These cultural strands continue to influence the world today. Elaheh Kheirandish of Harvard University will tell us about mathematics and science in the medieval Islamic world. Dave Soldier, a leading improvisational musician and composer on the New York scene, will play with his new group, The Spinozas (including Na'Ti Lachmy, Richard Khuzami, and Nelida Tirado), who mix contemporary gypsy/flamenco style with Middle Eastern traditions and the lyrics of Al Andalus. Islamic art historian Carol Bier will bring two contemporary carpets from Turkey, woven using traditional methods with natural dyes. Comparing patterns and the uses of color, she will explore symmetry and symmetry-breaking in what we call Oriental carpets.

Thursday, April 14, 2005 at the Stone 10 pm
with Dave, Na'Ti, Richard, Neli
And prior to the concerts above, a few public rehearsals at Gorgio Gomelski's, an ASCAP production at the Cutting Room, and two shows at an ethnic festival in Queens
Lyrics from Zajal
With the exception of The Stars of Country Music Greet the Spring, all lyrics are from medieval Andalusia, found in old Diwan collections in libraries in Spain and New York
These are the lyrics of the pieces on the album Zajal. With the exception of The Stars of Country Music Greet the Spring, and Bima which is a gazhal in Farsi I read in a Sufi bookstore, they are from medieval Andalusia and in medieval Arabic, Hebrew and Spanish (known as Romance). I have found them in old Diwan collections in libraries in Spain and New York.
Krav (Battle)

קְרָב
(by Samuel ha Nagid)
Krav Dome Berosho Leyefeyfiya
Asher Kol Eesh Lesachek Ba Ye-ave
Vesofo Kazkena Hameusa
Asher Kol Shochara Yivke Veyidve
Translated by Ana Nimouz:
At the start, a battle is like a very beautiful girl
with whom every man longs to play
And when the battle is over it is like a repulsive old hag
And all her suitors mourn cry and ache.
Rendered in modern Hebrew:
Beethila Krav Dome Le-eesha Yafa
Shkol Ehad Haya Rotze Ba Ve-eeta Lesahek
Vekol Mee Shetamach Ba Mitabel Veboche.
Water and Fire 

ماء ونار
(by Al-A Ma At Tutili)
Bi'sa la-'mri ma arada l-'adh ul
'Umrun qairun wa-'ina' un tawil
Ya zafaratin nataqat 'an 'alil
Waya dumu' an qad asabat masil
Dam-un safuhun wa-dulu' un hirar
Ma'un wa-nar
Ma-ajtam a illa li-amrin kubar
Ya Ka'batan hajjat ilay ha l-qulab
Bayama hawn da'in wa shawqin munib
Da'wata awuqhin ilay ha munib
Lubbayka! La'alwi li-qawl l-raqib
"Meu l-habib enfermo de meu amar
Que no ha d'estar?
Non ves a mibe que s'ha de no llegar?"
(translated from Arabic by Ana Nimouz)
Stanza 2 and 3
In my life, it's hard to hear their (censorious) words
for life is short and love's labors are long
(I sing) to the cries that betray the one who loves
and for the tears that flow like a stream.
Stanza 1
Flowing tears and a burning chest
water and fire
if you can't be together,
live for those moments you can
Stanza 5 and 6
All hearts are wandering to Kaba.
I am torn by the passion that calls to all who believe in love
you called the sinner to come back to you.
Here I am! Pay attention to me!! Not to the spy's words
"my lover is sick for loving me
and why wouldn't he be?
can you see he can't be near me?"
Beautiful Boy  אֱהִי כֹפֶר לְעֹפֶר קָם בְּלַיִל
(by Samuel Ha-Nagid) Ehi Kofer Tzvi Hefer Briti

Veahavato Betoch Libi Shmura
Asher Amar Lasahar Bealoto
"Hatireh Et Meor Panay Vatera"
Umareh Halevana Baafela
Kevareket Bechaf Alma Shchora

Ehee Kofer Laofer Kam Balayil
Lekol Kinor Veugavim Meytivim
Asher Ra-ah Beyadi Kos Veamar
"Shte meebeyn Sfatay Dam Anavim"
Veyareach Kmo Yod Nichteva Al
Ksut Sachar Bemeymey Hazehavim

(translated from Hebrew by Ray Scheindlin)

I will offer my life to the gazelle who woke at night,
to the sound of viols and melodious harps.
who saw a cup in my hand and said
"Drink from between my lips grapes' blood!"
And the moon like a C was inscribed on
Dawn robes in golden water

I will offer my life to the gazelle who violated my alliance,
And I guard his love in my heart,
he said to the rising moon
"When you see my radiant face- will you be afraid?"
and in the dark, the sight of the moon
was like an emerald stone in the palm of a black girl.

Haldara thabyu el-Hema (If)  هل درى ظبيُ الحمى أن قد حمى 
(by Ibn Sahl)

Haldara thabyu el-Hema, An Kad Hama
Kalba Sabin Chalahu, An Maknisi

Fahawa Fee Haren, Wachafkin Mitlama
Laebath Reeyachu, Alsabaa Bilkabsi

Ma Likalbi Filhawa, Thambin Seewa
Minkum Elchusnu, Wamin Awnee Elnathar.

(translated from Arabic by Ana Nimouz)

stanza 1
Does the little fawn from Al-Hima know that
he kindled his lover's heart where he dwelled?

stanza 2
So that is why his love is burning and pounding
like the flame teased by the east wind.

stanza 4
Was my heart a sinner because I was in love?
all of the beauty comes from you, and the sparkle comes from my eyes.


B-Abi (My Father)  بأبي ءلق 
(By Al-Qazzaz)

B-abi Ee-lku
Bil-nafsi Aliku

Hawaytu Hilalan Fil-husni Farida
A-aara El-razala Al-hadan waggida

Zanahu Rashku
Wa-ilkadu Rashiku

Badrun Yatharalab Bilsachri Almubini.
Etharun Muakrab Ala Yasmini

Falahu Mashku
Wa-ilkalbu Mashuku

Wataha Gamalan Lam Yanbor Mazida
Badrun Yatallala Fi-chusni Aatidali.
(translated from Farsi by Ana Nimouz

II would pay a ransom with my father
the most precious property my soul holds

I loved a new moon so special and unique in its beauty
He loaned his sparkle and thin neck from the deer

blessing adorn him
his figure was graceful

a full moon that is captivating with his recognized charm.
His cheeks directed towards the ground, curving on the jasmine

his figure is tall and attractive
from now on my heart is enslaved to passion

He asks (the moon) not to grow old
a full moon that appears with is fullness glory, proud of his beauty.


Raqib (The Spy)   ראקיב
(by Moshe ibn Ezra, also known as Abu Harun Musa, 1060-1139, Granada)

Ke adame filiolo alieno del amibe,
keredlo de mi betare su a raqibe!

Lo eshkach yemey cheldee
Leyl shachvo eley tzeedee
Al arsee u-marvadee
Ad boker neshakanee ve-asses peev heneekanee

(translated from Romance (early Spanish) by James DenBoer, from Hebrew by Ray Scheindlin and Sigal Trattner)

I loved a sweet boy from another clan, and he loved me
but his chaperone (spy) wants to keep us apart!

Never will I forget the night
The night he lay beside me
Upon my bed and carpet -
Until morning's light he kissed me,
With his mouth's nectar suckled me

Rendered in modern Spanish:
Amé a un hijito ajeno y él a mi
lo quiere apartar de mi su espía!


Bi-Moa (Without Myself) بي ما
by Jalal Ad-Din Rumi (1207-1273)

Mora safari fitad bi-moa
Onje delema goshad bi-moa
Onma-ch-ke zema nehan hami shud.

Ru-ch-ber ru-che-ma nehad bi-moa.
Chun-dar rameduuz Jan bedawdim
Mora kame-ouh bizad bi-moa.

Mow-eem hami shemas bi-moa
Mow-eem hami she-shad bi-moa.

Mora makonid yad hargezz
Ma-chod hastym yad bi-moa.

Bi-moa shode eem shad gu-yim
Eyma kehami-shehbad bi-moa.

darha hame baste bud barma
Bokshud churah-tab bi-moa.

Mow-eem zenidu bad rehide
Az-ta-aatu az fassad bi-moa.


Devoid of self
(Translated from Farsi by AnnaT)

Devoid of self I traveled to a place
There, in the absence of I, joy filled my heart.

Without I, his obscured face, like the moon
Came forth and kissed my cheek.

In longing for my love I perished
And from that longing, birth was given to me.

I am eternally drunk, without wine.
My joy is endless, without I.

Do not remember me, ever.
For I am memory itself, without I.

I am ecstatic without myself, so I say
O me, may you always be without I.

All the doors were shut to me, and
All opened when he let me in, without I.

Me, I am the one, free of good and evil,
Free from obedience and corruption, without I.


ekol Mee Shetamach Ba Mitabel Veboche.
for bookings, contact Dave Soldier at ds43@columbia.edu